Partial Birth Abortion Fiasco: Saved Not One

"Ending partial-birth abortion... does not save a single human life."
- Dr. James Dobson
Scores of pro-life leaders and groups (see their names below) have condemned Gonzales v. Carhart, the U.S. Supreme Court's brutally-wicked ruling upholding the morally bankrupt partial-birth abortion "ban." Tragically, other pro-life leaders and groups (see them also) still support this fraudulent ban and ruling which is a virtual manual on how to perform late-term abortions. Brace yourself for American RTL's summary of the PBA fiasco:
American RTL's PBA Fiasco Summary: Gonzales v. Carhart is the most brutal ruling in the history of the U.S. Supreme Court and is a virtual manual on how abortionists can continue to perform late-term and even partial-birth abortions. The ban and ruling explicitly keep partial-birth abortion legal with the justices declaring what the misguided regulation obviously indicates, that the abortionist can deliver the baby to the navel (a four-inch variation on standard PBA) and then kill her; and he can even perform a text-book PBA if the mother is "over dialated;" and the justices list other ways the same late-term child can be killed, and they suggest that these other methods may indeed be more violent (and thus more painful to the fetus) than PBA itself, but they justify this in that the ban improves the public perception of the abortion industry.
Leaders Not Celebrating, but Thankfully Condemning, the PBA Ruling:
Ambassador Alan Keyes * John Archibold, a founding board member of National Right To Life and Americans United for Life (who resigned both groups in protest when they adopted an immoral strategy that was also destined to fail) * Dr. Charles Rice, professor emeritus, Notre Dame Law School * Rev. Tom Euteneuer and Human Life International * Dr. Patrick Johnston and Pro-Life Physicians * Editor Jim Rudd and Covenant News * Cliff Zarsky and Corpus Christi RTL * Chris Mohr, director of Ohio RTL * Erik Whittington and Rock for Life * John Lofton and The American View * Eric Guttormson and TheologyOnline.com * Brian Martin and TheologyWeb.com * Jim Anderson and Life Commercials * Cal Zastrow and Michigan Citizens for Life * Judy Zabik, Michigan Personhood Leader * Matt Trewhella and Missionaries to the Preborn * Brannon Howse and Christian Worldview Net * David Brownlow, OR U.S. Senate Candidate * Keith Humphrey and Life Support * Gregg Jackson, best-selling author and radio host * Louis Wein, former New York City Ass't Mayor * Steve Curtis, former State Chair, Colorado Republican Party * Julie Niccum, Wisconsin Personhood Leader * Jo Scott and Pro-Life Colorado * Pastor Bob Enyart and Denver Bible Church * Pastor Gino Geraci and Calvary Chapel South Denver * Chuck Baldwin and Crossroad Baptist Church * Rev. Clennard Childress and L.E.A.R.N. and BlackGenocide.org * Randall Terry, Founder of Operation Rescue * Angela Michael with Ladies of the Covenant * John Haskins and the Underground Journal * Eve Sanchez Silver, Clear Research and former Komen for the Cure staff advisor * Rep. Don Dwyer, MD House of Representatives * Steve Schulin, MD Independent Party * The Editors, Human Life Alliance * Tom Hoefling and America's Independent Party * T. Russell Hunter and Abolish Human Abortion * Steve Deace, nationally-syndicated radio host * Leslie Hanks and American Right To Life * Susan Sutherland and Colorado Right To Life * Flip Benham and Operation Rescue National / OSA* Bob Dornan, 20-year U.S. Congressman * Nellie Gray, a founder, D.C. March for Life * Columbine dad Brian Rohrbough and Life Commercials * Judie Brown and American Life League * Judge Roy Moore, the Ten Commandments judge, former Chief Justice of the State of Alabama.
Groups Still Inexcusably Defending this Brutally-Wicked Ruling:
National Right to Life Committee * Americans United for Life * Christian Law Association * Family Research Council * National Pro-Life Action Center * Christian Coalition * U.S. Conference of Catholic Bishops * Wendy Wright and Concerned Women for America * Fr. Frank Pavone and Priests for Life * Jay Sekulow and American Center for Law and Justice * Dr. James Dobson and Focus on the Family
Hear Mom Present When Bush Signed the PBA "Ban": A mother who was on hand when George W. Bush signed this horrific legislation, Lori Vance, later discussed the PBA "ban" with an American RTL spokesman.
See the 4-inch Variation Required by the Wicked PBA "Ban" & Ruling: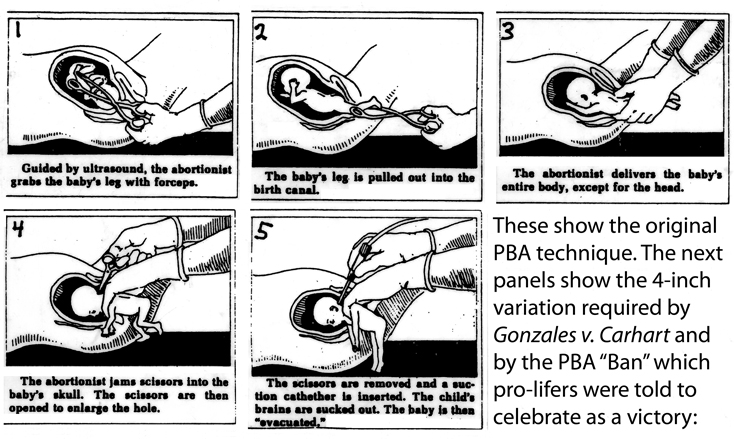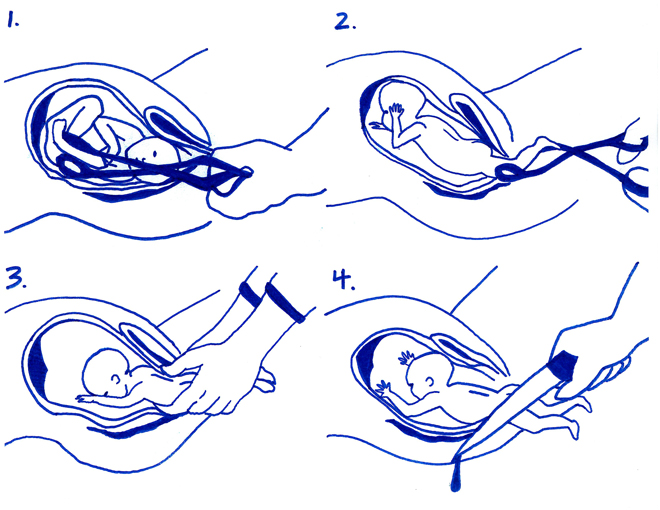 Please see also our Regulations page, and you're invited to watch online Focus on the Strategy III (or via DVD). And remember, we are the makers of the world's largest protest sign against Barack Obama and the Democrats for destroying unborn children.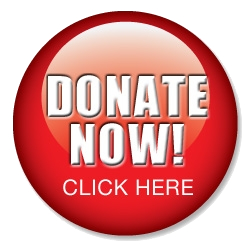 Finally, if you'd like a 40-year pro-life education in 40 days, in less than one hour per day, then American Right To Life will keep track of your progress! To begin, just click on Get a 40-Year RTL Education!
For more information, email, write, or call us:
American Right To Life
1535 Grant Street #105
Denver, CO 80203

office@AmericanRTL.org
1-888-888-ARTL
Please donate now to ARTL!