Breast Cancer Link Suspected as Reason Komen Pulls Abortion Chain Funding
For Immediate Release:
American Right To Life Suspects the Breast Cancer Link 
Is the Real Reason Komen Pulled Abortion Chain's Funding
UPDATES: See this on Times Square in NYC. Also Fox News ran two reports based on this press release: Groups cite alleged cancer-abortion link to explain Komen's split with Planned Parenthood and Does science support abortion-cancer link? And Rush Limbaugh cited the ABC Link.
Denver, CO 2-1-2012 – "Now that the lead National Cancer Institute researcher on the abortion/cancer link has reversed herself and warned of abortion as a significant risk factor for breast cancer," says Lolita Hanks, nurse practitioner and president of American Right To Life, "the pro-life pressure on Planned Parenthood and Susan G. Komen is increasing."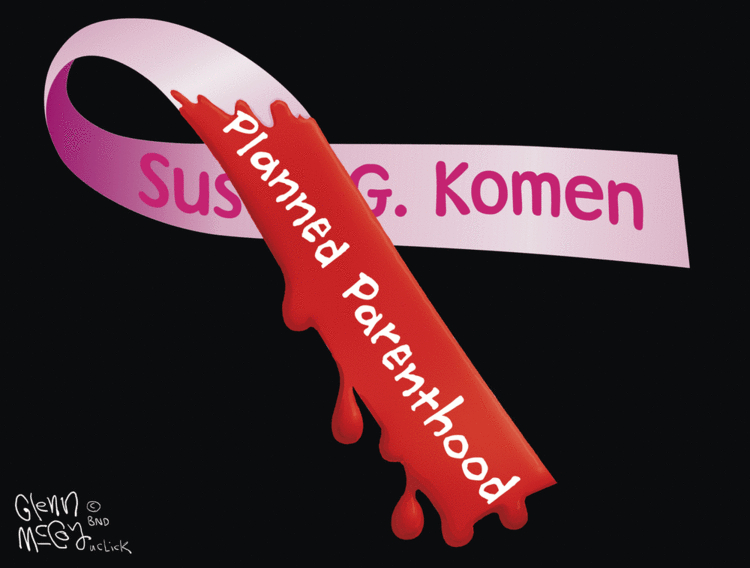 "Louise A. Brinton was largely responsible for getting the government-funded NCI to deny the abortion-breast cancer link," said Darrell Birkey, research director for ARTL, "and she has now reversed herself and co-authored a study which includes 'induced abortion' as a significant breast cancer risk factor."
Brinton and her co-authors wrote in the peer-reviewed Cancer Epidemiology journal of the American Association for Cancer Research, "Specifically, older age, family history of breast cancer, earlier menarche age, induced abortion, and oral contraceptive use were associated with an increased risk for breast cancer."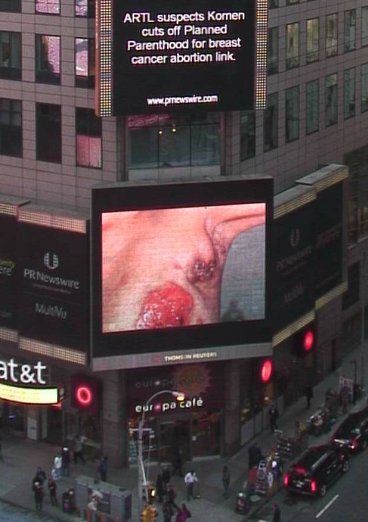 Endocrinologist Joel Brind, Ph.D. of Baruch College in New York City, dissented at the NCI's conference that rejected the abortion link to breast cancer, a conference organized by Brinton. Professor Brind says, "The 2003 conference of the National Cancer Institute which denied abortion as a risk factor for breast cancer refused to allow attending scientists to present the opposing position of the scientific research establishing the link, showing that abortion was declassified as a cancer risk for political and not scientific reasons."
"Following that political correctness," says Hanks, "Komen is claiming they have halted funding to Planned Parenthood because a Republican chairman of a House sub-committee has inquired into their financial practices. We suspect the real reason is the growing evidence that abortion significantly increases the incidence of breast cancer."
"The NCI's own statistics show that breast cancer has increased, and only in women who were of child-bearing age when abortion was legalized in 1973," said Brind, "so much so that nationally, cancer would have steadily declined, except it has held steady at the expense of women getting breast cancer." And Prof. Brind suggests that Komen now correct a factual error on their website which claims that, "the breast is mature after puberty." Actually, "third trimester pregnancy hormones begin the final maturation process and the differentiation of mammary gland cells," said Brind, a recognized expert in the field. "Abortion prevents this, leaving the woman with more undifferentiated cells vulnerable to carcinogens, increasing her risk of breast cancer."
An ARTL state chapter, Colorado Right To Life, has protested Komen's Race for the Cure for a decade, and met with Komen officials in Denver. As transcribed from a recording of the meeting, Komen's public relations representative, Dana Brandorff was asked by CRTL's Leslie Hanks, "Why aren't women being told that abortion is the most preventable risk factor?" to which Brandorff answered, "We tend to focus on the cure... we're focusing our energies on that, rather than the preventative."
Please see AmericanRTL.org/abortion-breast-cancer for more information including on that RTL/Komen meeting.
Media and Public Contact: see below...