Pro-life Profile: Donald Trump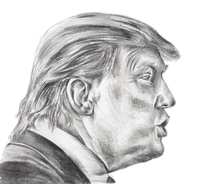 Post-Election Prediction: Because "exceptions are a window to the soul", and because Donald Trump holds to the immoral "states have the right to kill unborn children" position (see below), and because of his repeated claims that "Planned Parenthood has done very good work for millions of women" and that abortion is "a tiny part of what they do", therefore with a heavy heart but using discernment, Pro-life Profiles can predict as of November 9, 2016 that Donald Trump will NOT fight to stop abortion and even that he will continue funding the abortion industry at record levels, as did even the George W. Bush administration. (See Grim Reminder, just below.) Further, without any contrary indications, Trump's business circle, including Lynne Patton, and his family, including his chief advisor Ivanka, are pro-abortion, just like he has been his entire life until planning to run for the Republican nomination, and just like the "Bush women" were, again, providing an additional window into reality. For even still in 2016, on NBC News Trump said, "I have many, many friends who are women who understand Planned Parenthood better than you or I will ever understand it. And they do some very good work." Regardless though, like we pray for all mankind, and the leaders of all corrupt nations, so too, Christians should pray for Donald Trump to stop supporting killing the innocent and for him to fight to stop others from killing the innocent.
Trump Would Allow States to Decriminalize Murder: The abortion states' rights position is as immoral as Roe v. Wade itself. The federal government has no authority to decriminalize child killing and neither do the states. (If you are confused on this simple matter of fundamental morality and governance, we urge you to read ARTL's So-called States' Rights and Abortion article. Horrifically, both before and after the election, Donald Trump has said that regarding the slaughter of innocent children, he is happy to let the states kill children if they want to. Before being elected, speaking to John Dickerson, Trump said, "I would've preferred states' rights. ... I think it would've been better if it were up to the states." Of course the states have no right to decriminalize murder, kidnapping, rape, etc. So then, even after the election, when he lost the "excuse" that he was campaigning, on CBS' 60 Minutes, instead of reminding the nation that abortion kills an innocent child, Donald Trump said his Supreme Court nominees would send abortion "back to the states" and as for the "women who [then] won't be able to get an abortion", "well, they'll perhaps have to go, they'll have to go to another state."
Trump Says Abortion Is Murder, Can Stay Legal: When asked on a nationwide interview, "Do you think abortion is murder?" Trump of course did not want to answer: "I have my opinions on it, but I'd rather not comment on it." The moderated asked again, "You said you were very pro-life. Pro-life means that... abortion is murder." And Trump dodged again: "I do have my opinions on it. I just don't think [this is] an appropriate forum." Then finally, pressing further, "But you don't disagree with that proposition, that it's murder?" To this, Trump answered, "No, I don't disagree with it," which statement of course make's Trump's admission at the time all the more egregious, that the abortion "laws are set. And I think we have to leave it that way." So, to paraphrase him: It is murder to kill an unborn child, but we should leave the laws as they are, and besides, I support killing some of these kids anyway. It is far worse for a "pro-lifer", who acknowledges that abortion is murder, to support SOME abortion, than it is for a pro-abort who denies the humanity of the unborn child, to support ALL abortion. 
Praises His Sister, A Pro-Partial-Birth-Abortion Federal Judge: Ronald Reagan appointed Trump's sister, Maryanne Trump Barry, as a federal trial court judge (as he did also with other pro-abortion attorneys including Sandra Day O'Conner, who had previously co-sponsored a bill to decriminalize abortion in Arizona). In his book, "The America We Deserve", Trump strongly criticized a Republican Senator for challenging his sister on abortion. Later, as a federal judge, Maryanne Trump Barry joined pro-abortion Antonin Scalia in striking down New Jersey's ban on partial birth abortion. Writing the opinion, Barry described the PBA ban as "unconstitutionally vague" and absurdly claimed that it "unduly burdened a woman's constitutional right to obtain an abortion". Regardless of his sister's outrageously wicked support for dismembering unborn children and even for stabbing them in the back of the head and sucking out their brains, Trump has praised her as a judge and entertained the idea of her being a Supreme Court justice. During an August 2015 interview, regarding the possibility of his (aggressively pro-abortion) sister being nominated to the U.S. Supreme Court, Donald Trump said, "I think she'd be phenomenal. I think she'd be one of the best."
See more at prolifeprofiles.com.